 About Forests Packaging Group
About Forests Packaging Group
FORESTS PACKAGING GROUP was founded by a Packaging & Print expert, Jessica, in 1986. Today, FORESTS PACKAGING GROUP, with a team of production, sales, R&D and superior service, has become one of the strongest Paper Packaging manufacturers in China. We have more than 100 advanced equipment, such as German MAN Roland R904-7B four-color, R9055 five-color offset press , Heidelberg speed master CP102 four color sheet-fed offset press, Japanese Roybi 754 four color offset press, five advanced 5-ply Corrugated Board Production Lines, automatic Printing Slotting/Die-cutting Machines, automatic folder gluer, UV Spot and Overall Coating Machine, film blowing machines etc.. With such modern production equipment and technology. The Strength of enterprises is from people. Forests Packaging Group is full people oriented, always pulls good qualities from it's people, and actively fosters first-class working team, promotes good corporate culture and forms comfortable working atmosphere, and makes firm foundation for its long-term development. We are confident to supply you best quality and newest designs products together with the most competitive price. We also have obtained certificate of ISO9001:2008 & ISO14000 and our company is fully managed with ERP management system. With these efficient management methods, we serve our customers much better. And now, we have established business relationship with clients from more than 200 countries and areas. And we welcome new and old clients to cooperate with us for further mutual benefits.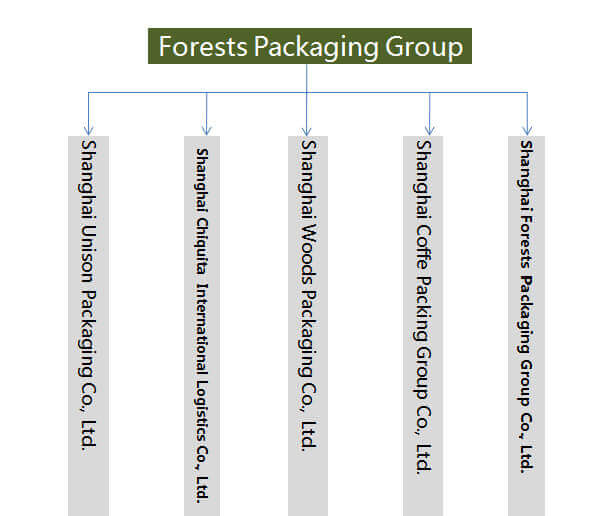 After more than three decades of development and growth, today, there are 5 branch companies in Forests Packaging Group, they are :
Shanghai Forests Packaging Group Co., Ltd.
Shanghai Unison Packaging Co., Ltd.
Shanghai Coffe Packing Group Co., Ltd.
Shanghai Woods Packaging Co., Ltd.
Shanghai Chiquita International Logistics Co., Ltd.
After Forests Packaging Group people unremitting efforts, Forests Packaging Group have become the TOP 1 of paper packing export in China, our products have sold to Australia, Europe, America and the other 70 countries and area, we are devoted to sending our packing throughout the world every corner.

As the golden supplier, Forests Packaging Group has cooperation with Wal-mart, HP, Azzurro, etc, and we have received our cooperation partner praise. Strong material, fancy design, made the box become reliable container and branch publicity tool. Forests Packaging Group have set production and printing in one, we can meet most of custom demand, from small packing box to huge shipping box, we can do all you want.
Our Serious and responsible testing team will check each box before shipping, superior quality and service made our company World-renowned. In the 2012 London Olympic games, as the packing supplier, we have received President of the IOC Mr. Rogge's personally letter to praise.

Forests Packaging Group cooperation area involved are becoming increasingly broad, from food, equipment, shipping, express, cosmetics, jewelry, beer, etc. Reliable quality, professional service, made forest packing become the leading company in packing industry.

We have joined several exhibition shows all over the world, make more and more partners recognize us. Colorful and fantastic group activity make forest group lively and united, choose Forests Packaging Group will never make you regret.